As the year comes to a close there is reviews of books I have missed thru the year… This post will have a few books that I have read at some point this year but haven't left a review for. There will be several books in this post… (Like normal when you click on the cover it will take you to the Goodreads page) All reviews in this post are reviewed by Beckey (The owner of this blog) and these books came from Net Galley for an honest review.
Blurb:
Rancher Mason Harper's two little girls want nothing more than a mama of their own. So when a pretty woman appears on his front porch in a tattered wedding dress, while Mason's looking for a nanny, he can't help but wonder if it's fate.
Annie Rose Boudreaux is in a downright hellish mess. She's just a few steps ahead of the low-life ex who's been hot on her heels, but she's tired of running, and nannying Mason's two sweet girls may be just what she needs. As her days on the ranch fly by, and the night's with Mason get hotter, Annie Rose decides that she's going to stay…for a lifetime.
Review:
Sweet endearing and completely enjoyable contemporary romance that was fate driven story for the stars to align. I liked this story with the witty characters and interesting storyline. Overall a 4 stars.
This is the last book in the Cowboys & Brides series.
Internationally renowned thief and con artist Nicolas Fox runs daring cons, now teams undercover for FBI with agent who caught him, Kate O'Hare. Together they catch the world's most wanted—and untouchable—criminals, next Carter Grove, former White House chief of staff, now ruthless leader of BlackRhino private security for a rare Chinese rooster from the Smithsonian.
Review:
Face-paced entertaining action packed thrill ride adventurous read, with humor and characters that I really enjoyed. This may be the second book but it didn't seem like that when reading.
4 stars, overall read that was enjoyable treat to read.
Blurb:
From the USA Today bestselling author of True, Sweet, and Believe comes a tantalizing New Adult novel about finding love in the most unexpected ways…
Kylie Warner prides herself on being optimistic, but after finding her best friend in bed with her boyfriend and flunking chemistry, her upbeat attitude has taken a dive. Even an impromptu hook-up with her sexy new chemistry tutor only brightens her mood slightly. After all, it's not like she'll ever see the tattooed scholar again…
While he's a whiz at complex equations, Jonathon Kadisch has trouble when it comes to figuring out women. So when Kylie tells him that she's pregnant after their night of passion, he's at a complete loss. He's prepared to be a good father—unlike his own deadbeat dad—but he's less prepared to fall for the genuine and alluring blonde bearing his child.
With emotions running high, Kylie wonders if Jonathon's devotion is out of growing love or looming obligation. And when heartbreak threatens to tear them apart, Jonathon will have to fight for the only girl who's ever made him feel whole…
Review:
Heads up…This is the last book in the series and many of the characters that are in series is a supporting character is the best way I can describe it at this moment… Each book is meant to be a standalone but if you haven't read the other books in the series it will be a minor spoiler…
This one is a woozier and oh goodness read… Something I wasn't expecting but it was still a good one from Erin McCarthy. A round bad luck for these characters that was page turner to see what was next or in store…as they found love in the least expected fashion
Overall a 4 star read.
Blurb:
Robin used to be a party girl… until she got black out drunk and woke up in bed with her best friend's boyfriend. Now she's faced with being THAT girl, and couldn't be more disgusted with herself. She can't even tell her friends the reason for her sudden sobriety and she avoids everyone until she meets Phoenix—quiet, tattooed, and different in every way that's good and oh, so bad…
Phoenix is two days out of jail when he meets Robin at his cousin's house, and he knows that he has no business talking to her, but he's drawn to her quiet demeanor, sweet smile, and artistic talent. She doesn't care that he's done time, or that he only has five bucks to his name, and she supports his goal to be a tattoo artist.
But Phoenix knows Robin has a secret, and that it's a naïve dream to believe that his record won't catch up with them at some point. Though neither is prepared for the explosive result when the past collides with the present…
Review:
Like I said in my prior review of this series each book may be a standalone but the characters in the series are supporting ones.
Angst, secrets and preverbal skeletons come out… Faced paced, page turning engaging read that had me captivated to see how Robin & Phoenix's story unfolds in this third installment of the series.
Overall 4.5 stars
Jimmy Rafferty and Eddie Molina go way back at the J-Bar ranch. They've worked together, bunked together, camped out, and drank together. So how has Jimmy failed to notice that Eddie is gay? Eddie has not failed to notice that his friend has a serious drinking problem, and he's determined to help Jimmy kick the booze cold turkey.
Taking him up to a snowbound cabin to detox, Eddie is confronted with Jimmy's fierce denial. But the pains of withdrawal are nothing for Jimmy compared with the heartache of denying his true feelings and his deep longing…for the one man who cares for him more than anyone else on earth.
Review:
This was different and wasn't what I expected from this author, honestly I wasn't thrilled with the addiction part or ménage element … and you think that after 15 years being together that this couple would be have their acts together, mature I think is the word I am thinking or may be maturity. With that being said the story enjoyable and at times hard read. Overall 3.5 stars
Blurb: 
mischievous romantic comedy, about a man who's always run from love and the girl who just might catch him.Ally was warned about Rohan Sinclair when she first moved to town – and she is determined she won't let this gorgeous, model-dating doctor distract her from being the best nurse she can be. Problem is, this bad boy just happens to live in the room next door . . .It's hard enough to resist his persistent charm at home; almost impossible when they are thrown together at work . . . But a little innocent flirting never hurt anyone, right?Wrong. Ally knows it's a terrible idea to fall for a man who will never commit, but what if in every other way he's her perfect guy?
Review:
Cute sweet contemporary romance with elements of witty humor and cleverly written storyline that was ok to pass the time kinda read. 3.5 stars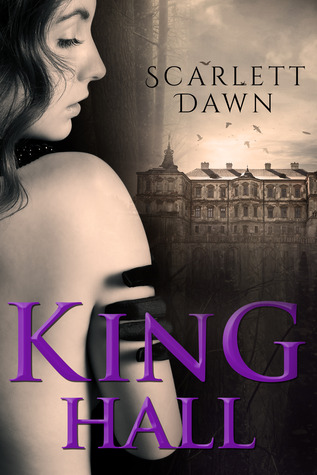 Blurb:
A fresh, meaty, sink-your-teeth-in-and-hold-on-tight new adult fantasy series kicks off with King Hall…
King Hall — where the Mysticals go to learn their craft, get their degrees, and transition into adulthood. And where four new Rulers will rise and meet their destinies.
Lily Ruckler is adept at one thing:  survival.  Born a Mystical hybrid, her mere existence is forbidden, but her nightmare is only about to start. Fluke, happenstance, and a deep personal loss finds Lily deeply entrenched with those who would destroy her simply for existing — The Mystical Kings.  Being named future Queen of the Shifters shoves Lily into the spotlight, making her one of the most visible Mysticals in the world. But with risk comes a certain solace — her burgeoning friendships with the other three Prodigies: a wicked Vampire, a wild-child Mage, and a playboy Elemental. Backed by their faith and trust, Lily begins to relax into her new life.
Then chaos erupts as the fragile peace between Commoners and Mysticals is broken, and suddenly Lily realises the greatest threat was never from within, and her fear takes on a new name: the revolution
Review:
This is young adult titled book. One that was a great start to a series that I read with my one teenager (no review yet from her). Let me say there is some mature PG 13 scenes in the book…
This author is a new to me indie author and I was amazed at how well this was written and well rounded the characters were. This is a captivating, paging turning paranormal read that I will be on the look out for more of the series. 4 stars…
Blurb:
She's addicted to sex. He's addicted to booze…the only way out is rock bottom.
No one would suspect shy Lily Calloway's biggest secret. While everyone is dancing at college bars, Lily stays in the bathroom. To get laid. Her compulsion leads her to one-night stands, steamy hookups and events she shamefully regrets. The only person who knows her secret happens to have one of his own.
Loren Hale's best friend is his bottle of bourbon. Lily comes at a close second. For three years, they've pretended to be in a real relationship, hiding their addictions from their families. They've mastered the art of concealing flasks and random guys that filter in and out of their apartment.
But as they sink beneath the weight of their addictions, they cling harder to their destructive relationship and wonder if a life together, for real, is better than a lie. Strangers and family begin to infiltrate their guarded lives, and with new challenges, they realize they may not just be addicted to alcohol and sex.
Their real vice may be each other.
New Adult Romance recommended for readers 18+ for mature content
Review:
Holy crud… There is so many things in this day and age that people can be addicted to… This is a raw captivating interesting story that will have you wanting more but disgusted with destructive behaviors… Raw gritty and edgy read that was a 4 stars.
Blurb:
A desperate composer tricks a principled newspaper publisher into printing a false story, and then falls for him. How can she prove that she's worth a second chance?
Review:
Touching, captivating, enjoyable, sweet Historical romance that was emotionally moving but interesting to read. 4 stars
More to come …