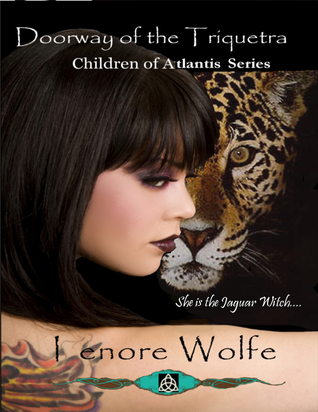 Doorway to the Triquetra (Children of Atlantis, Book One, Edition 1)
Through the ancient power of the medallion, the Triquetra, Mira is the next Jaguar Witch, bound by the blood of the Jaguar, to cross the doorway and learn the Way of the Stone. She must find the Doorway of the Triquetra, but each move she makes only leads her to a deeper mystery, where all of her past lives are bound—to four immortal men.
A Review(by Beckey)
Different and unique story line that was like mix of paranormal with borderline of urban fantasy. Interesting and will be looking forward to reading the others in the series… 3.5 stars
About the author:
Lenore Wolfe writes dark fantasy, and paranormal & historical romance.
Facebook:
https://www.facebook.com/authorLenore…
https://www.twitter.com/lenorewolfe
Blogs:
http://authorlenorewolfe.blogspot.com
Lenore grew up in Montana, where her great-grandmother and father taught her about the real Old West—and Alaska, where she fell in love with the wild beauty of the Last Frontier. She currently lives in central US, where she finds that each day holds a lesson in the value and history of those who have walked before us—and what we can learn from their experiences while walking on our own unique path. Lenora holds a BA in Sociology with a minor in writing from the University of Northern Colorado. She is a student of earth based and Shamanic Studies.
Other Blogs by Lenore Wole
http://talkaboutauthors.blogspot.com
http://magicallandofbooks.blogspot.com
http://heartsoffireromance.blogspot.com
http://paranormaleromance.blogspot.com
http://dark cloth.blogspot.com
http://childrenofstlantis.blogspot.com
http://sonsofthedarkmother.blogspot.com
http://darkrealmofthewitch.blogspot.com
http://realmofthejsguarwitch.blogspot…
http://realoftheelementalwitch.blogsp…
http://herbrokenwingscouldfly.blogspo…
Lenore Wolfe writes for Ruby Lioness Press and Triquetra Press
http://rubylionesspress.com
http://triquetrapress.blogspot.com