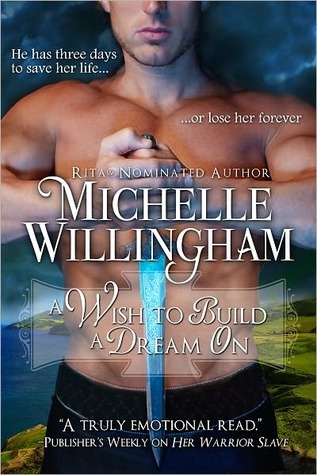 Mary Samson never dreamed that stepping into a fairy circle would send her back in time to medieval Ireland, into the arms of warrior chief Cian MacCorban.
Reclusive Cian is a man with the curse of the Sight, knowing exactly when his friends and family members will die. But when he meets Mary, he has only three days to save her life . . . or lose her forever.
This short story is an extended digital re-release that was originally published in the Mammoth Book of Time Travel Romance.
A Review(by Beckey)
Mary Samson prefers an orderly lifestyle, never doing any rash or spur of the moment.
After a year of dating Garret, he dumps her the Thursday before she leaves for a two week vacation to visit Ireland.
While Mary is on a bus tour, she meets Harriet who asks her to make a wish while they drink to stolen mini bar drinks…
Mary seems to think it's silly…
When the tour group decides to stop & tour an area by the sea.
Mary steps into a ring of mushrooms, as silly as it may, she made her wish;
"I wish someone would love the woman I am. Not the woman he wants me to be…."
Do wishes really come true???
Steeped in Irish folklore, it was interesting short story.
About The Author:
Rita® Award Finalist Michelle Willingham has published over twenty books and novellas. Currently, she lives in southeastern Virginia with her husband and children and is working on more historical romance novels. When she's not writing, Michelle enjoys baking, playing the piano, and avoiding exercise at all costs. Visit her website at: www.michellewillingham.com or interact with her on Facebook at www.facebook.com/michellewillinghamfans.
twitter username