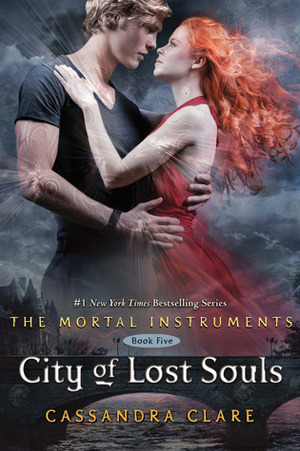 The New York Times bestselling Mortal Instruments continues—and so do the thrills and danger for Jace, Clary, and Simon.
What price is too high to pay, even for love? When Jace and Clary meet again, Clary is horrified to discover that the demon Lilith's magic has bound her beloved Jace together with her evil brother Sebastian, and that Jace has become a servant of evil. The Clave is out to destroy Sebastian, but there is no way to harm one boy without destroying the other. As Alec, Magnus, Simon, and Isabelle wheedle and bargain with Seelies, demons, and the merciless Iron Sisters to try to save Jace, Clary plays a dangerous game of her own. The price of losing is not just her own life, but Jace's soul. She's willing to do anything for Jace, but can she still trust him? Or is he truly lost?
Love. Blood. Betrayal. Revenge. Darkness threatens to claim the Shadowhunters in the harrowing fifth book of the Mortal Instruments series.
A Review by Beckey and her daughter, Anna (The child with so few words after she reads a book…)
Anna: Amazing & Wow… Just Wow. I liked and dislike this one. Like the how story is told and there is NO Cliffhanger (serious dislike cliffhangers, it makes me scream and yell until mom buys me the next book…) I am addicted to this series. Dislike that one scene… (Mom told me not to be a spoiler, UGH that was a bad person for what he was trying to do but …)
Beckey: Yeah, Anna that was a bad spot…. but I am glad to hear you enjoyed it for the most part.
Excellent addition to this so far great series, we (my daughter and I) are looking forward to reading more… The book was unpredictable that left read wondering was next in store.
Overall another 4.5 star read
About the author
"Cassandra Clare was born overseas and spent her early years traveling around the world with her family and several trunks of fantasy books. Cassandra worked for several years as an entertainment journalist for the Hollywood Reporter before turning her attention to fiction. She is the author of City of Bones, the first book in the Mortal Instruments trilogy and a New York Times bestseller. Cassandra lives with her fiance and their two cats in Massachusetts."
You can find me online at
I have a blog:
http://cassandraclare.livejournal.com/
and a Facebook:
http://www.facebook.com/Cassandraclare
and a Twitter: